About Tous Law
Proudly Providing Southern California For 25 Years
Our Mission
At Tous & Associates, we're dedicated to ensuring you and your loved ones can rest easy knowing that we're here to help.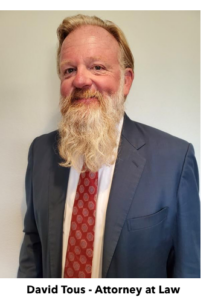 At the Tous Law Group, we know how tough it can be when you're hurt at work or wrongfully terminated. You don't know who to turn to or who can help. From our offices, located in Orange, CA, our goal is to get you the benefits and compensation you deserve whether you have been injured on the job or fired unfairly. For more than a decade, founder David Tous and his team have worked to protect the rights and livelihood of people across the state of California. We've got the experience and the knowledge to help.We understand you have injuries. We know you're confused. You can count on us to make sense of the system and get you the benefits and help you deserve.
Both at-will and contract-based employees can experience wrongful terminations, and this is true even when an employer reserves the right to terminate "for any reason or no reason at all." Under California and federal law, there are clear and well-established limitations on when and why employers can fire employees. In short, a wrongful termination occurs when the termination violates statutes, public policies and/or breaches an employment agreement.
Do not delay in pursuing the compensation you are entitled to receive for your work-related injuries or wrongful termination. Tous Law Group handles work injury cases throughout California. Contact us at 714-377-1068 or online to schedule your free initial consultation at one of our locations. And remember, if you do not obtain a recovery, we are not paid a fee.
We've represented numerous clients in injury cases and we have the experience that you're looking for. We're always willing to work with you on our fees and services. We're simply here to help you.
David Tous, MBA, JD
Tous Law Group
Attorney David M. Tous
B.A. Azusa Pacific University, 1988
J.D. American College of Law, 1996
Attorney David M. Tous has worked in the fields of employment law and workers' compensation law for over thirty years. He began his career as an insurance adjuster on the opposing side of these types of cases. He continued working for insurance carriers while attending law school and was sworn in as an attorney and member of the California State Bar in 1997. After initially working as an attorney for employers, Mr. Tous decided to use his vast experience and cumulative knowledge to aggressively represent employees. Because of his prior experience, Mr. Tous is aware of every strategy in the book and is unaffected by the various underhanded tricks used by insurance carriers.
Mr. Tous reviews every case on a weekly basis with the Tous Law Group, which is comprised of an excellent and experienced staff that has worked together for more than a decade. One of the Tous Law Group's top priorities is frequent and clear communication with our clients so that their questions are always answered.
Clients should know in advance that insurance carriers and employers have endless resources to fight against their case, so having an experienced attorney like Mr. Tous is vital for success. Mr. Tous and the Tous Law Group will fight tooth and nail to ensure that you receive every benefit entitled to you by law and are committed to addressing every clients' individual needs.

Contact Us
4952 Warner Ave, #255
Huntington Beach, California 92649
Office: 714-766-0264
Fax: 714-464-4470
Email: gbeilfuss@touslaw.com